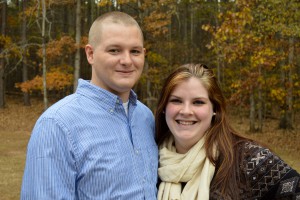 So you want to know a little bit about me?  That is probably why you are here!  Well, we can start at the beginning.  I was born and raised in South Hill, Virginia, the only child of C.W. and Leslie Bing.  During my childhood, I took a lot of things apart to learn how they worked, and sometimes put them back together!  At the same time, I had an immense fascination with technology, specifically computers.  Our first family computer was a Gateway 2000 running Windows 95.  It had a Pentium II, four gigabytes of hard disk space, and Myst (oh, the nostalgia!).  I had a few older computers before this one, but I consider this to be the point where my interests began.
It did not take long for me to poke around the computer to figure out how it worked, and I ended up having to re-install Windows a time or two (or three).  Having a computer in the house at such an early age set in motion my passion for hardware and software.
A few years later, I found myself building computers for myself and my friends, and I loved it!  There was always something to tweak, upgrade, or fix!  Between playing video games and school, I dabbled with creating websites in FrontPage (don't hate) and eventually Dreamweaver (before they were bought by Adobe).  No lie, they were terrible, even for early internet standards, but I pressed on and continued to learn everything I could.
After graduating high school I moved to Yorktown, Virginia to start community college.  Meanwhile, my parents founded Water for the Oppressed and moved to Zambia, Africa.  I continued to attend college and eventually found myself losing interest in going to school.  I knew that I did not want to work entry-level jobs for the rest of my life, so I joined the Air Force in 2011 as an Aircraft Armament Systems Technician.  This has almost nothing to do with computers, but is a challenging and rewarding experience that I would not trade for anything.
My first assignment was to Spangdahlem Air Base, Germany, where I deployed to Afghanistan in 2013.  The time I spent in Germany was fantastic, and I met so many great people!  After returning from Afghanistan, I received orders to my next assignment:  Moody Air Force Base in Valdosta, Georgia, where I currently reside.  The area reminds me a lot of home, and is where I met my beautiful girlfriend, Jessica Hilliker!
You can see all of my current Web Development projects by clicking here.  That is enough about me, go check out the rest of my posts!
Comments
comments